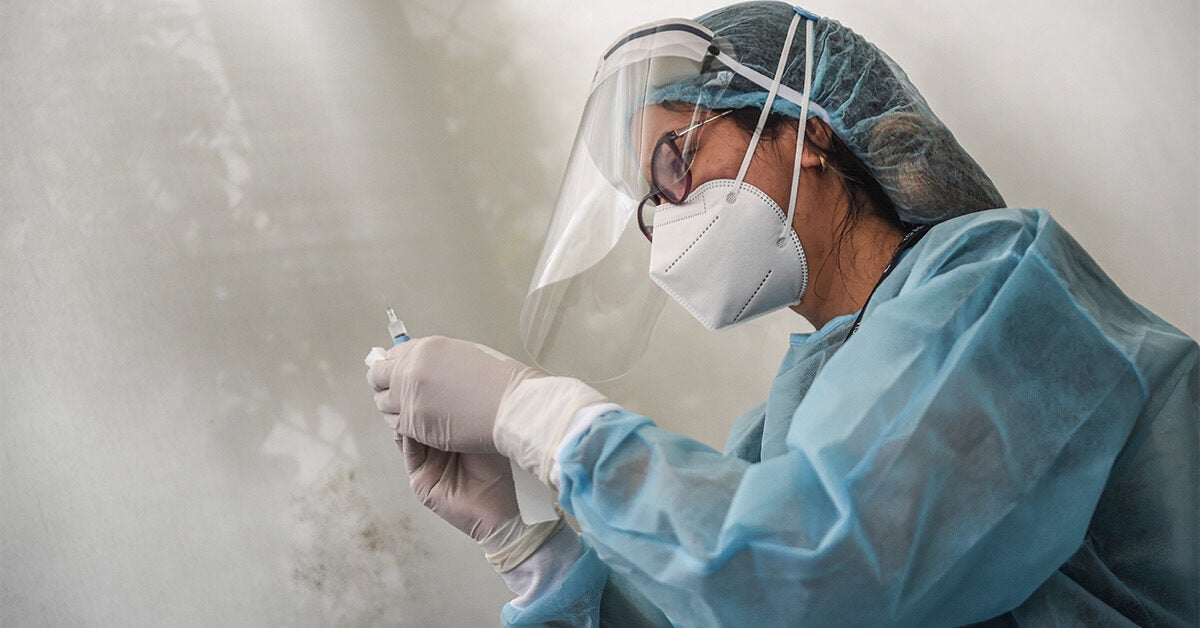 China has started vaccinating citizens even though the safety tests have not been completed.
The United Arab Emirates (UAE) has approved a vaccine from a Chinese drug manufacturer.
Nearly 100,000 people in the UAE received the vaccine as part of a voluntary program.
The UAE has approved Chinese manufacturer Sinopharm's COVID-19 vaccine candidate, announced on December 9 by the country's Ministry of Health and Prevention (MOHAP).
According to the official press release, this vaccine has been granted emergency use authorization in the United Arab Emirates (UAE) since September to "protect frontline workers most at risk of COVID-19".
Sinopharm and the UAE have yet to release detailed data on a phase 3 study of 31,000 participants which will be extensively verified by independent experts.
However, MOHAP and the Abu Dhabi Department of Health looked at an interim analysis of Sinopharm's phase 3 studies, the ministry said in a statement.
The data "shows that the Beijing Institute of Biological Product's inactivated vaccine is 86 percent effective against COVID-19 infection," MOHAP said.
The UAE also said it is conducting a Post Authorization Safety Study (PASS) and a Post Authorization Effectiveness Study (PAES) of their Emergency Use Authorization Program. These ongoing studies "show similar safety and efficacy profiles to those of the interim analysis".
The analysis shows that the vaccine has "a 99% seroconversion rate of neutralizing antibodies and 100% efficacy in preventing moderate and severe cases of the disease," said MOHAP.
The ministry also said that the analysis shows no serious safety problems.
However, it is unclear without further information how the vaccine could be both 100% and 86% effective in preventing disease.
So far, nearly 100,000 people in the UAE have received the vaccine as part of a voluntary program, Jamal Al Kaabi, a senior UAE health official told CNN.
This is not the only vaccine candidate from China. Another vaccine developed by drug manufacturer Sinovac appears to be safe and to stimulate a rapid immune response, according to early-stage clinical trials published in the Lancet Infectious Diseases medical journal.
With Pfizer's development of the COVID-19 vaccine, there are now three technologies being studied to see if they produce effective viral vaccines.
According to Centers for Disease Control and Prevention (CDC), these are:
Inactivated viral vaccines, which use a weakened form of the disease virus to stimulate the body's immune response. Sinopharm's vaccine uses this technology.
Weakened viral vaccines, which contain a version of the living virus that has been weakened so as not to cause serious illness in people with healthy immune systems.
mRNA vaccines, which use some of the virus's genetic information to teach our immune system produce certain antibodies. Pfizer and Moderna's vaccines use this technology.
"The mRNA is part of the genetic information of the virus," Dr. Len Horovitz, a pulmonology specialist at Lenox Hill Hospital in New York, told Healthline. "Other vaccines use a 'paralyzed' form of an entire virus to boost immunity such as MMR [measles vaccine], influence [influenza]. "
According to Dr. James Elder, an internist at Texas Health Harris Methodist Hospital in southwestern Fort Worth, this new technology is actually decades old.
"This technology has been around since 1990," he said. "The trial of the first mRNA product, which was not a human trial, dates back to 1990 and has shown good efficacy."
Elder said in the early 1990s a group of researchers used the same technology for a specific purpose and were able to show that "this technology was effective for the purposes it was designed for."
According to a 2019 studyWhile vaccines using a weakened (or dead) version of the virus have provided huge benefits in saving lives, this technology has had significant drawbacks in the past.
These include "the potential to cause disease in immunocompromised individuals and the possibility of returning to a virulent form," the study authors said.
Without more information, the risks and benefits of taking the Chinese vaccine remain unclear.
On the other hand, vaccination with "non-viral delivered nucleic acid-based vaccines [mRNA] mimics infection or immunization with live microorganisms, "stimulating a potent antibody immune response, according to the study.
The study also found that manufacturing the new type of vaccine is safe and time-saving. It also eliminates the dangers associated with the increasing amount of dangerous pathogens and the need to produce vaccines on the scale needed to supply large populations.
There is also "less risk of contamination with live infectious reagents and the release of dangerous pathogens," the research said.
The most significant difference between older vaccine technologies and mRNA vaccines is the need to keep drugs like Pfizer's vaccine at extremely high levels. low temperatures during storage and transport.
This creates difficulties for developing countries which may not have the necessary facilities.
We won't know if the mRNA vaccine is more effective than the older types of vaccines until this time next year, Elder said, "after there has been a large-scale meta-analysis that can be done."
But it predicts the biggest benefits for the new technology such as: "Number one, speed of development and number two, perhaps a slightly wider application in terms of vaccine development."
The elder said he would need more data to understand the safety risks of the Chinese vaccine.
"I don't know what they are doing to inactivate the virus, so I don't know if I could specifically talk about risk stratification for their vaccine," he said. "But the inactivated vaccine is something we do regularly [in the United States]. "
If it's done correctly, "it should be safe," he said. "And I assume that scientists in China are just as smart and capable as anywhere in the world."
The UAE has approved a Chinese candidate vaccine to prevent COVID-19 infection.
This vaccine uses inactivated SARS-CoV-2 virus, a method for making vaccines older than mRNA, the technology used to make Pfizer's vaccine.
The interim results of the phase 3 trial of the Chinese vaccine have not yet been published. But UAE health officials said the vaccine is 86 percent effective, according to their data.
Outside experts say they need to see more data to verify these claims.