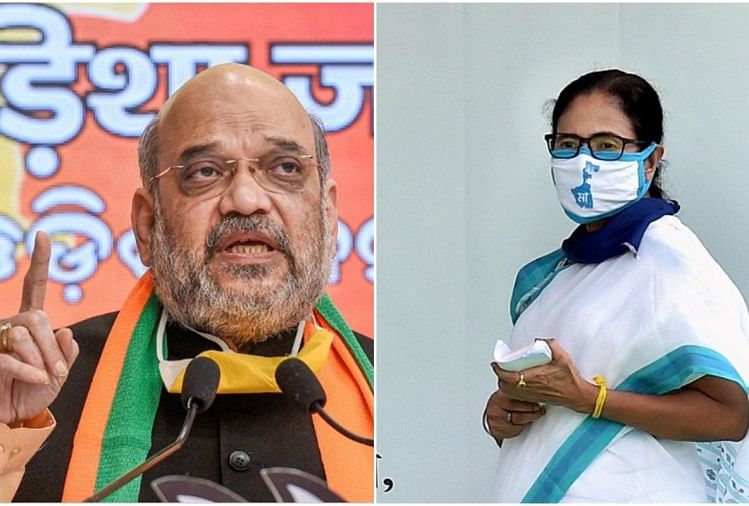 Amit Shah-Mamta Banerjee (file photo)
– Photo: PTI
The Union Home Ministry on Thursday again ordered the summoning of three IPS officers on central deputation following the attack on BJP president JP Nadda's convoy in West Bengal, but now the TMC has categorically denied it. The party said that under no circumstances will we send our officers to the Center and if the Center has the courage, the President should show rule in the state.
At the same time, the Union Home Ministry has said that according to the rules of the IPS cadre, the state has to accept the Centre's position in case of dispute. The Home Ministry has said that three IPS officers have been assigned new responsibilities and should be given immediate relief.

Mamata will not bow to 'expansionist' forces: Mamata
West Bengal Chief Minister Mamata Banerjee said that the Government of India's order to summon three serving IPS officers from West Bengal, despite state objections, was a gross abuse of power under the emergency provision of the IPS Cadre Rules 1954. He said the state government would never bow to expansionist and democratic forces.
The TMC president said the act was nothing more than a deliberate exercise to encircle the state's jurisdiction and to discourage officers on duty in West Bengal. The move is against the basic tenets of the federal constitution, especially before the election. This is unconstitutional and completely unacceptable!
The Chief Minister further said that we will not allow this attempt by the Center to control the state machinery through proxies! West Bengal is not going to bow to the expansionist and democratic forces.
Jitendra Tiwari resigned
The Trinamool Congress is facing difficulties in West Bengal. Following the resignation of Suvendu officials, now MLA Jitendra Tiwari has resigned from the post of Chairman of the Board of Directors of Asansol Municipal Corporation. There are reports that Tiwari may join the BJP soon. Tewari had written a letter to the West Bengal government a few days back alleging that the industrial city was deprived of central funds.
As soon as I resigned, my office broke up: Tiwari
After resigning, Jitendra Tiwari told the media that within an hour of leaving the post of administrator, my office was demolished following the instructions of Kolkata. It is not possible for me to be with them now. I have resigned as the party's district head (TMC).
Suvendu Adhikari severed ties with Trinamool Congress
Here, Suvendu Adhikari also resigned from the primary membership of the Trinamool Congress party on Thursday, a day after leaving the post of MLA. Party sources gave this information. The official also resigned from the state cabinet last month. According to sources, the official has written a letter to Trinamool Congress supremo Mamata Banerjee informing her of her decision to resign from the party's primary membership.
Read ahead
Jitendra Tiwari resigned