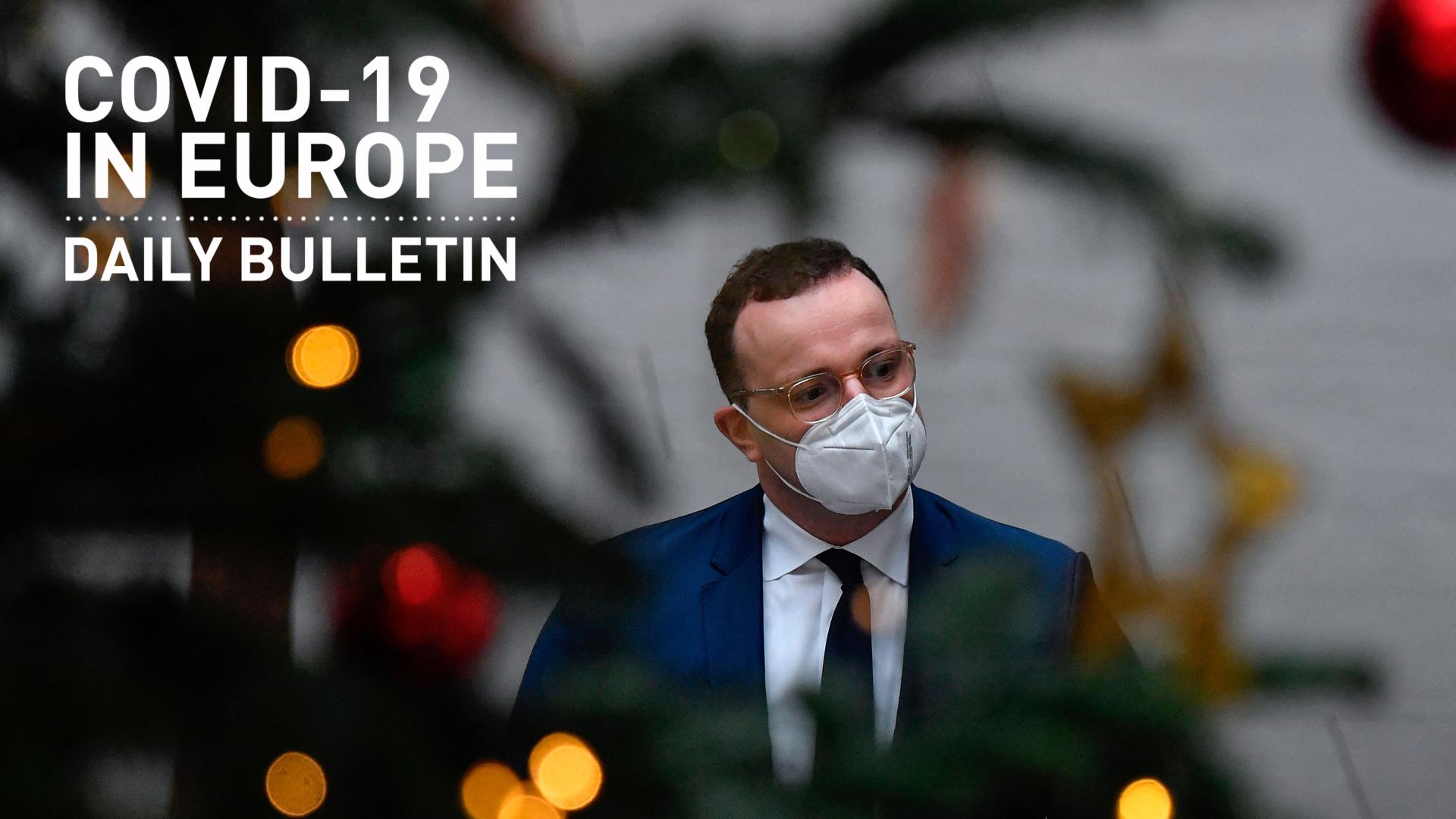 • Europeans will start receiving COVID-19 vaccines before the new year after the drug regulator accelerated its approval process. The European Medicines Agency will meet on 21 December to evaluate the Pfizer / BioNTech vaccine, with the European Commission therefore ready to speed up its approval "within days".
• Anti-blockade protesters in the Ukrainian capital Kyiv knocked out a police officer while another 40 received chemical eye burns from the gas, the Interior Ministry said Tuesday. A tight national blockade will begin in January.
• Daily coronavirus deaths in Turkey have increased by a record 235 in the past 24 hours, bringing the country's total death toll to 16,881, data from the health ministry showed Tuesday. Turkey has also recorded 32,102 new coronavirus cases, including asymptomatic ones, in the past 24 hours.
• Germany, France, Italy, Belgium, Luxembourg, the Netherlands, Spain and Switzerland will coordinate the start of their COVID-19 vaccination campaigns, The countries' health ministers said in a joint statement Tuesday.
• Aeroflot, Russia's flagship airline, will designate a special seating area on board for passengers who refuse to wear masks. "Dedicated seats are assigned to passengers who declare their refusal to use masks afterwards [the aircraft's] the doors close, "a statement said.
• The share of the Spanish population that has contracted the coronavirus has almost doubled to almost 10%, or about 4.7 million people, in the second wave of contagion since late summer, results from the latest phase of a nationwide antibody study showed Tuesday. In Madrid, 18.6% tested positive.
• Switzerland should impose an immediate and strict blockade, the leading pandemic expert advising his government urged Tuesday. "We think we need very strong measures, the sooner the better," said Martin Ackermann, calling for the closure of non-essential restaurants and shops and strict rules of work from home.
• Poland cannot ease COVID-19 restrictions yet and people are expected to stay at home over the Christmas periodsenior government ministers said Tuesday. "We cannot pretend that we have defeated the virus," Prime Minister Mateusz Morawiecki said at a press conference.
• France reported 11,532 new COVID-19 infections in the past 24 hours on Tuesday – the day President Emmanuel Macron predicted a reduction to 5,000 or fewer new cases per day in order to loosen the country's blockade.
• German Health Minister Jens Spahn has put pressure on the EU medicines agency to approve the vaccine produced by Pfizer and BioNTech. It has already been rolled out in other countries, including the UK and the US. "Our goal is an approval before Christmas so that we can still start vaccinating this year," he said.
• Italy will have to impose new restrictions during the Christmas period to slow the spread of the virus and prevent a third "devastating" wave, said Prime Minister Giuseppe Conte The print.
• A new A five-week national blockade has been imposed in the Netherlands with schools, non-essential shops, museums and gyms closing until January 19th.
CLICK: TEN THINGS THAT CHANGE IF THERE IS NO BREXIT COMMERCIAL DEAL
THROUGH EUROPE
Rahul Pathak in Madrid
Spain could develop herd immunity by next summer if enough people take the COVID-19 vaccine, according to the country's health minister.
Salvador Illa said the country's vaccination program, which is expected to begin in January, is expected to vaccinate two-thirds of the nation's 47 million inhabitants by June 2021.
Illa's confidence comes despite a recent poll that found Spaniards to be among the most skeptical in Europe when it came to the COVID-19 vaccine.
He said the first coronavirus vaccines could start arriving in Spain on January 4 once the European Medicines Agency (EMA) approves it.
Nawied Jabarkhyl in London
Nearly 11 million people in and around London will move into the highest level of COVID-19 restrictions by Wednesday. It means that 61% of the British population will be in level 3 areas, with stricter limits on their lives.
The UK government said it has found a new coronavirus strain that is proving particularly active in parts of the country with rising infection rates. But he turned down requests to review his decision to allow families to reunite over Christmas in a national relaxation of the rules. Scientists warn it could lead to more cases and deaths.
There are concerns about the economic damage that the stricter restrictions could cause. The latest figures show that 819,000 fewer people were on UK payrolls than the start of the pandemic.
Protesters oppose UK virus restrictions as London is placed in the top tier. / David Cliff / NurPhoto / Getty
Protesters oppose UK virus restrictions as London is placed in the top tier. / David Cliff / NurPhoto / Getty
Toni Waterman in Brussels
Coronavirus infections have turned their backs in Belgium … but in a worrying direction, as the number of cases has now risen for three consecutive days.
In the last week, an average of 2,274 infections per day was recorded, a 6% increase over the previous week. With the breeding rate just under one, the government and health officials could be forced to introduce new restrictions when they meet on Friday, just a week before the Christmas holidays.
The country's death toll has also passed another tragic milestone, with a total of 18,054 killed by the virus since the start of the pandemic.
Linda Kennedy in Budapest
The first doses of a COVID-19 vaccine could arrive in Hungary in late December, Prime Minister Viktor Orban said. And the country has signed a contract with every "serious vaccine manufacturer", as it negotiates with "both East and West".
Any vaccine quantities that may arrive at the end of December will be small, with mass vaccinations not starting until 2021, one of the country's leading epidemiologists added.
Hungary blocked a total of 17.5 million doses of the vaccine from a variety of manufacturers. In the past 24 hours, 3,470 new infections have been identified and 165 people have died.
Jens Spahn aims to authorize the use of the vaccine before Christmas. / Daniel Karmann / AFP
Jens Spahn is aiming for authorization to use the vaccine before Christmas. / Daniel Karmann / AFP
FROM OUR GLOBAL COLLEAGUES
CGTN China: Mainland China reports 17 new cases of COVID-19
CGTN America: "Healing is coming": US health workers begin receiving the vaccine
CGTN Africa: Kenya's COVID-19 patients came out with heavy bills after hospitalization
subscribe Here to receive the COVID-19 Europe bulletin directly in your inbox.
CGTN Europe provided in-depth coverage of the new coronavirus story as it unfolded. Here you can read essential information on the crisis.
Source (s): Reuters, AFP