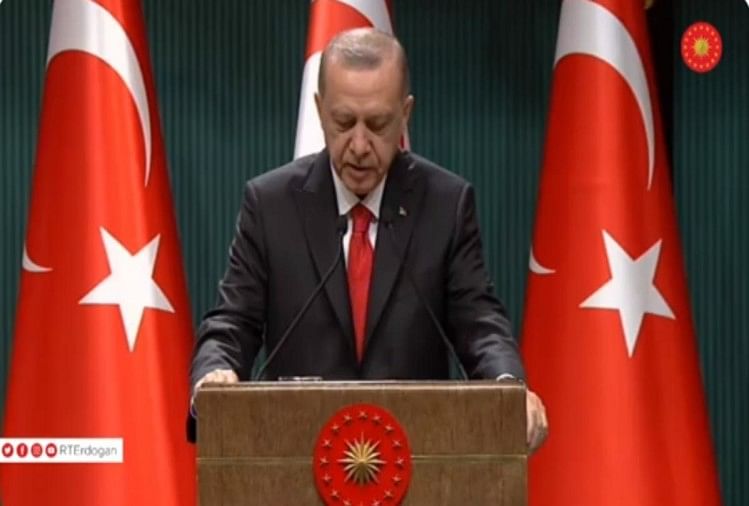 Turkish President Recep Tayyip Erdogan read a poem during his visit to Azerbaijan. Political storm in Iran. Since then, this poem has been very popular in West Asia.
Erdogan visited Baku, the capital of Azerbaijan, last week. There he took the salute of the military parade to celebrate Azerbaijan's military victory over Armenia. Nagorno – Turkey provided military assistance in the battle for control of the Karabakh region between Azerbaijan and Armenia. Armenia thanked Erdogan for his help in the celebration.

The war lasted 44 days, which was a source of trouble for Iran. Armenia and Azerbaijan both share borders with Iran. In addition, Iran is home to millions of people of Azerbaijani descent and thousands of people of Armenian descent. In a poem read to Erdogan, he lamented how the Rivers River, which flows between Azerbaijan and Iran, separates the people of Azerbaijan. Erdogan's poem means that the President of Turkey is talking about the unification of all Turks. There are also areas that fall into Iran.
It is said in the poem- ​​'
They have separated us from the rocky Arus River. But I am no different from you. They have forcibly released us. '
This shocked the people of Iran. He understood the meaning of this poem that the President of Turkey was talking about mixing Iranian territory in his country. Experts say one has to look at the history of the field to understand why poetry has become such a big political issue.
A treaty was signed about 200 years ago at the end of the Russo-Persian War. It was signed by the Kajar king of Persia (present-day Iran). This dynasty ruled until 1925. The Russo-Persian treaty is still remembered in Iran as a chapter of humiliation. Under that treaty, Russia occupied a large area of ​​Persia. Under it, the Aras River was directed between the two countries. The land occupied by Russia at that time is now occupied by Azerbaijan and Armenia. Some of them are also in Turkey. According to experts, Azerbaijanis can live on both sides of the river, but they seem connected. That's why I went to Iran after reading Erdogan's poem about the region.
"No one can talk about our beloved Azerbaijan," said Iranian Foreign Minister Mohammad Javed Zarif. He said in a tweet that Erdogan had no idea he was ignoring Azerbaijan's sovereignty. Iran's foreign ministry has summoned Turkey's ambassador to Tehran to seek clarification on Erdogan's remarks. Meanwhile, Iran's ambassador to Ankara was summoned by the Turkish government and opposed Iran's statements. But on Saturday, when Zarif called Turkish Foreign Minister Mevlut Cavusoglu, he clarified that the Turkish president was not aware of Iran's sensitivities. But Turkey has strongly protested the abusive language spoken about the Turkish president in Iran.
Several members of Iran's parliament have apologized to Erdogan. Ali Nekzad, deputy speaker of the Iranian parliament, said Erdogan either did not know the history or deliberately twisted it. On Sunday, 225 members of Iran's 290-member parliament issued a statement condemning the Turkish leader's remarks.
Relations between Turkey and Iran are already strained. Turkey is trying to be the leader of Sunni countries, while Iran considers itself the leader of Shiite countries. The confrontation has reshaped the case of Azerbaijan. This has heated up the diplomacy of the region.