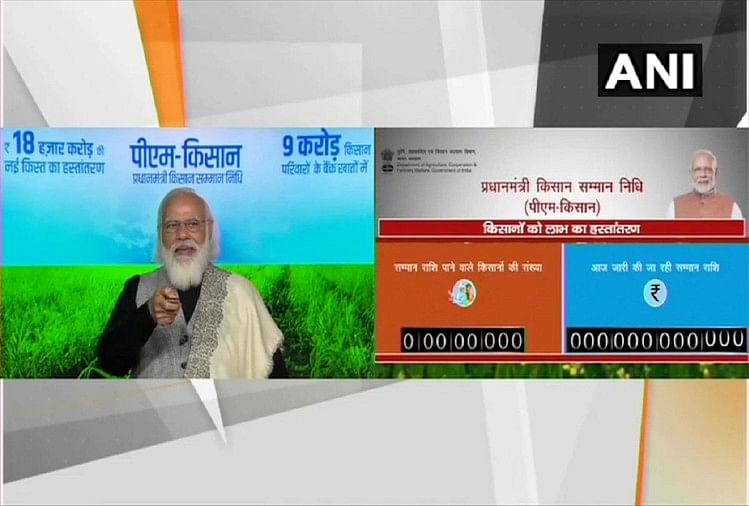 News Desk, Amar Ujala, New Delhi
Fri, 25 December 2020, Updated IST at 12:59 p.m.
Prime Minister Narendra Modi
– Photo: ANI
Amidst the farmers' agitation, Prime Minister Narendra Modi sent Rs 18,000 crore to the accounts of 90 million farmers in the country on the occasion of Christmas and Atal Jayanti. During this time, Prime Minister Modi also interacted with farmers in six states. He asked a farmer from Arunachal Pradesh a question about contract farming. He asked if the company only takes your crops or even lands? With Gagan's response, PM Modi targeted the opposition. Prime Minister Modi said that confusion was being spread about land grabbing by companies.
Indeed, the Prime Minister's dialogue with farmers began with Gagan Pering, a ginger farmer from Arunachal Pradesh. "I have received Rs 2,000 in four months through the Kisan Sanman Nidhi," he said. Gagan told the prime minister that he uses the money for organic farming and pays the workers. PM Modi asked Gagan whether the company only takes your ginger or land, Gagan said it only takes ginger. The Prime Minister then assured the farmers that no one would be able to snatch their land. Confusion about land is spreading.
Talk to farmers in Odisha and Maharashtra
Apart from this, PM Modi talked to a farmer from Odisha about the Kisan credit card and asked about its benefits. The Prime Minister said that Atal Bihari Vajpayee's government had started giving cheap loans to farmers, we are moving it forward. The Haryana farmer told the Prime Minister that he used to cultivate paddy, now he is gardening. Farmer Ganesh from Maharashtra shared his experiences in farming and animal husbandry.