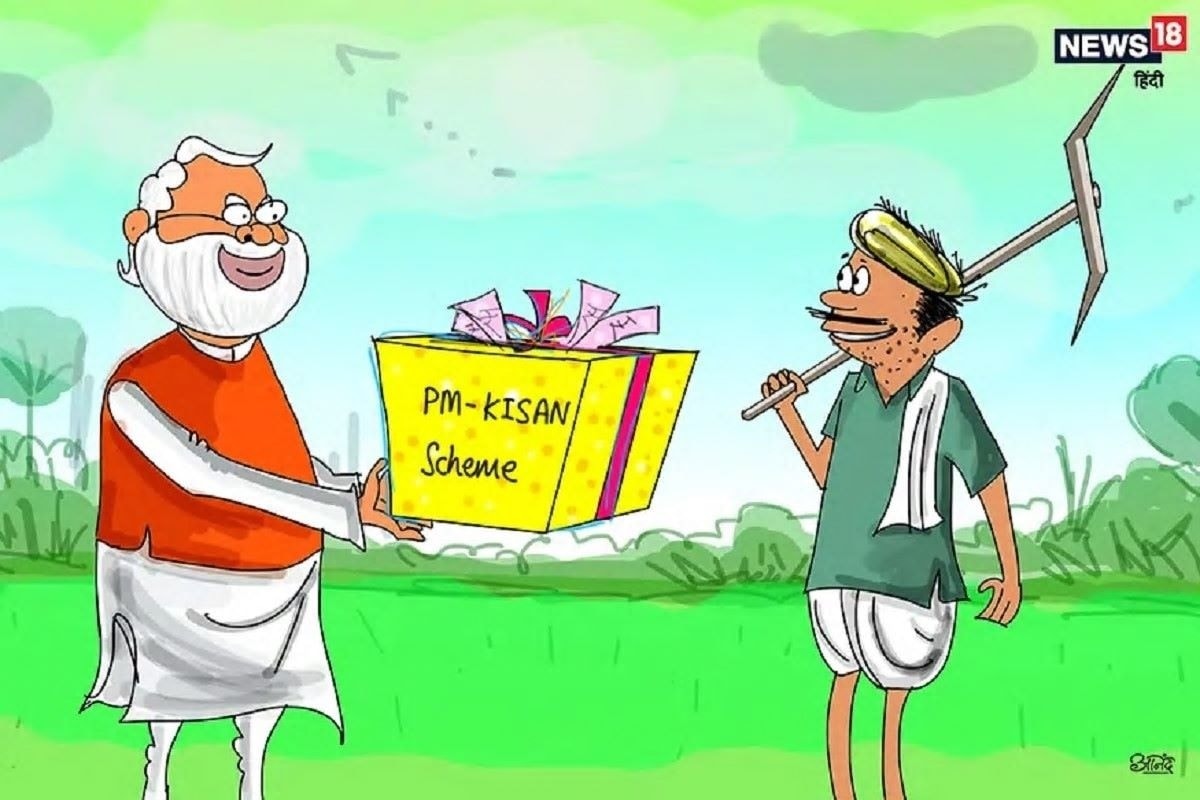 Pradhan Mantri Kisan Sanman Nidhi Yojana
PM Kisan Sanman Nidhi Yojana: PM Modi will today release the next installment of Rs 2,000 under the PM-Kisan Sanman Nidhi Yojana in the accounts of more than 9 crore farmers. But there are also some farmers who do not have money in their accounts. These farmers do not come under the purview of this scheme.
News18

Last updated:
December 25, 2020, 11:11 AM IST
New Delhi.
Prime Minister Narendra Modi today deposited Rs 9 crore in the accounts of farmers under the PM-Kisan Sanman Nidhi Yojana. Will introduce a new installment of 2000. Moreover, on the birth anniversary of former Prime Minister Atal Bihari Vajpayee, PM Modi will have a virtual dialogue with millions of farmers in six states of the country. PM Modi has also tweeted about this. In a tweet on Thursday, the Prime Minister wrote that tomorrow is a very important day for food donors. More than 90 million farming families will have the opportunity to skip the next installment of PM-Kisan through video conferencing at 12 noon. On this occasion, I will also talk to farmers and brothers and sisters from many states.
So far, farmers in Uttar Pradesh have received a total of Rs 24,183 crore under the Prime Minister's Kisan Sanman Nidhi. This amount will be Rs 28,443 crore after the online transfer on Friday. Under this scheme, the Central Government gives Rs. 6000 to each eligible farmer in three equal installments of Rs. This money is given at a time when farmers are in dire need of agricultural investment in rabi, kharif and zayed crops.
The money will not come into the account of these farmers
There are some farmers who cultivate but they do not get the benefit of PM-Kisan Sanman Nidhi Yojana. The government has set some conditions for joining the list of beneficiaries of the scheme. Under these terms, if the farmer has land in the name of the farmer's father or grandfather, the person will not be entitled to avail the benefit of the scheme. Along with this the farmers who cultivate but if they do not have cultivable land in their name are also not considered eligible.Also read: At the end of the year, you get the chance to buy cheaper gold, you get extra discounts on digital payments
This means that share crops or agricultural labor and farmers will not be eligible for this. At the same time, farmers who have arable land, but if it is not used for farming, will also not be included in the eligibility list.
Check your name like this
>> First of all, you have to visit the official website of PM Kisan Sanman Nidhi pmkisan.gov.in.
>> After this, at the top you will see Farmer's Corner.
>> You have to click on it.
>> After this, click on Beneficiary Status.
>> Now you have to enter the Aadhaar number, account number and mobile number.
>> You select an option and then click on Get Data.
>> After this, you will get complete information about the transaction.
After doing this process, you will now know whether your name is in the PM Kisan Sanman Nidhi or not. If your name is registered, your name will be found. If your name is not on the list, then you can file a complaint.
Also read: Jaggery sweets will be more expensive this winter, rising prices, check the latest prices
What to do if the name is not in the list
Name many people in the previous list, but if they are not in the new list, then you can lodge a complaint on the PM Kisan Sanman helpline number. You can call the helpline number 011-24300606 for this. Last time, more than one crore people could not get the benefit of this scheme.