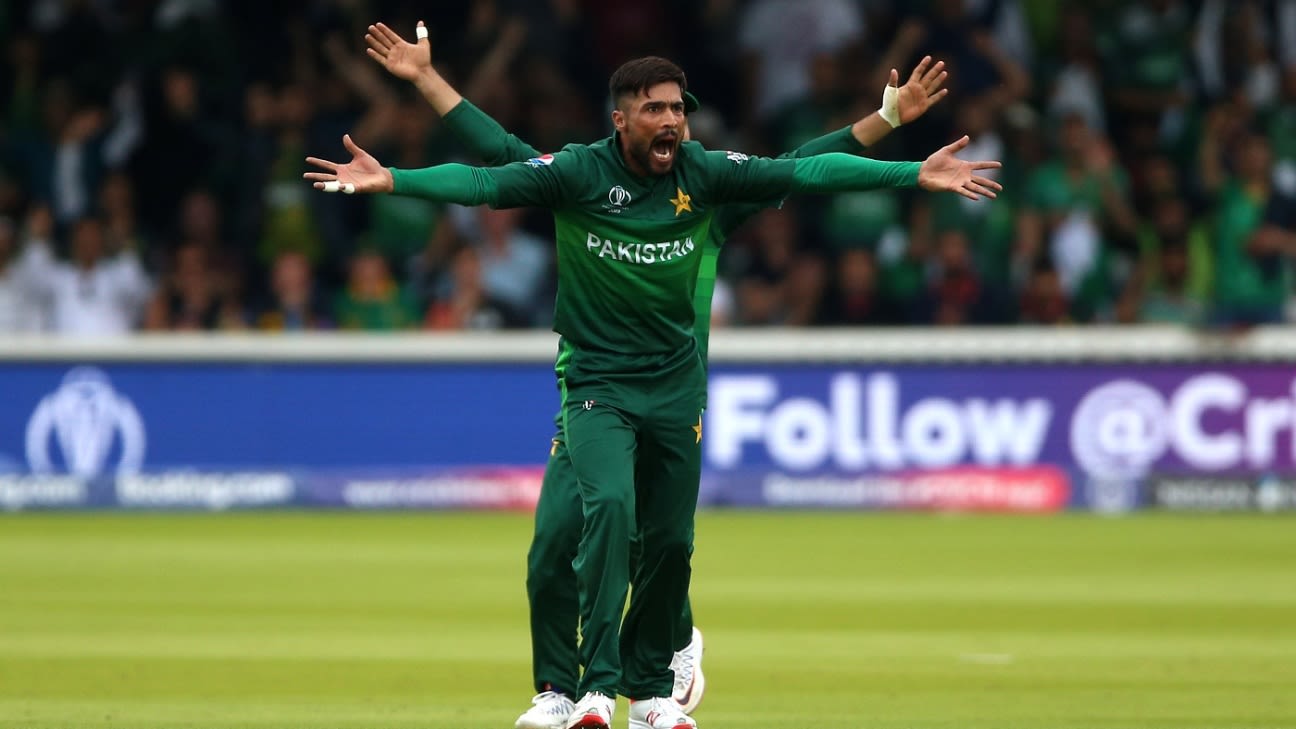 news
"I don't think I can endure such torture. Enough," he says
Pakistani fast pitcher Mohammad Amir has retired from international cricket, PCB confirmed. Amir represented Pakistan in 36 tests, 61 ODI and 50 T20I, and most recently played in the inaugural Lanka Premier League for runners-up Galle Gladiators.
"Pakistan Cricket Board CEO Wasim Khan spoke to Mohammad Amir this afternoon following reports that the fast bowler had announced his retirement from international cricket. The 28-year-old confirmed to PCB CEO that he is not has any wishes or intentions to play international cricket and as such should not be considered for future international matches, "a PCB statement said. "This is a personal decision of Mohammad Amir, which the PCB respects and, as such, will not comment further on this at this stage."
The statement serves as another reminder of the extent to which relations between Amir and the current management of the team are disrupted. It came out of the back of an interview he gave to Samaa TV last Thursday, in which Amir claimed he was "mentally tortured" by the team management, taunted frequently and was deliberately sidelined by them.
"I am leaving cricket for now because I have been mentally tortured. I don't think I can endure such torture. I endured a lot of torture from 2010 to 2015, for which I served my time. I was tortured. Being told that PCB has invested heavily. about me. I'll just say that two people have invested a lot in me: [former PCB chairman] Najam Sethi e [former Pakistan captain] Shahid Afridi.
"They were the only two. The rest of the team said, 'We don't want to play with Amir.' Recently, the atmosphere that has built up means that I am being taunted all the time when I am told I don't want to. . Who doesn't want to play for their country? Every two months someone says something against me. Sometimes the bowling coach [Waqar Younis] says that Amir dumped us, sometimes they tell me my workload is not satisfactory. When too much is too much. "
Discontent was simmering for a while before finally reaching a climax on Thursday. Amir, who withdrew from Test cricket last year, found himself barred from the PCB's central contract list earlier this year, and was omitted from Pakistan's 35-man team in New Zealand last month.
After the team's announcement, Amir said on Twitter "Misbah only" he could explain why he wasn't included, before criticizing bowling coach Waqar Younis for talking about his workload. This, coupled with Amir's frequent praise of former Pakistan manager Mickey Arthur, who at one point said he would like to "play Arthur for any team in the world", offered insight into how he viewed his relationship with the club. current technical staff. It is unlikely that he picked Sethi for praise in his statement, that he played too well in front of his successor Ehsan Mani or CEO Wasim Khan, further condemning Amir to international exclusion.
The 28-year-old is still highly sought after in T20 championships around the world, so his full international retirement should allow for more time. Although his specific attacks on this leadership suggest he would be open to returning if things at the board changed, for now Amir appears to have put to bed a tumultuous international career that appeared to have been sabotaged just as it began in 2010, before a promising second came after a five-year ban that ended up vanishing.
Even so, the highs achieved by Amir in a shortened international career would outweigh the fuller careers. Bursting onto the international stage in 2009, he played a pivotal role in the 2009 T20 World Cup final against Sri Lanka, sacking tournament player Tillakaratne Dilshan in the first round as Pakistan took the title. He went on to take five wickets in the Boxing Day Test later that year, and went on to haunt Australia in England in 2010, taking seven wickets at Leeds as Australia were eliminated for an 88 first inning and Pakistan had won his first Test against that opposition in 15 years. Five wickets at Lord's against England were next before the points repair scandal broke out.
After his return, he had never been so bright, although glimpses of that outrageous talent were occasionally evident. The spell with the new ball in the 2017 Champions Trophy final may be his most famous, as he removed Rohit Sharma, Virat Kohli and Shikhar Dhawan to take a 180-run win. For the most part, however, he had reinvented himself more as a white ball specialist than a full-fledged swing bowler, giving him more opportunities to play in T20 leagues around the world.
Amir last played for Pakistan in T20Is in England in August of this year. He finished his international career with 259 wickets: 119 in the tests, 81 in the ODI and 59 in the T20I.
Danyal Rasool is a sub-editor of ESPNcricinfo. @ Danny61000