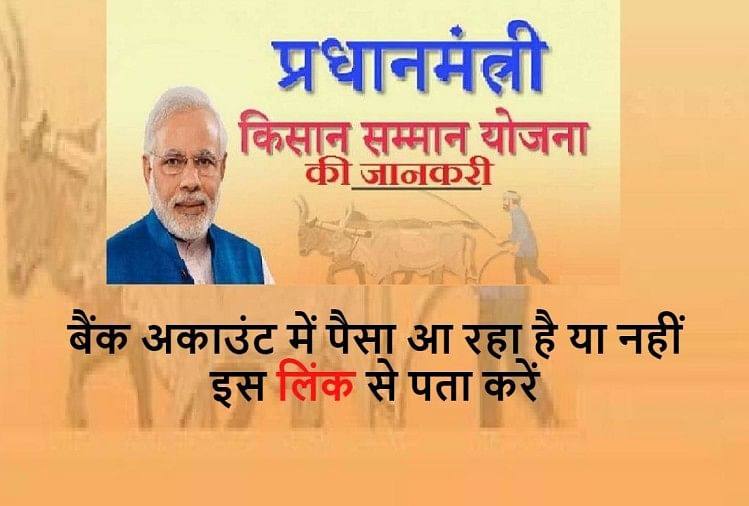 Business Desk, Amar Ujala, New Delhi
Updated IST on Friday, 25 December 2020, 03:35 PM
The problem of Indian farmers is not hidden from anyone. The government is making all possible efforts to alleviate the problems of the farmers. Almost everyone's economic situation has deteriorated during the Corona period. With this in mind, the government also announced an economic package that took into account the interests of farmers. The government is running several schemes to provide financial security to the people. Under one of these schemes, the government periodically deposits Rs.
18,000 crore in farmers' accounts

Prime Minister Narendra Modi on Friday released the installment of financial benefits available under the Prime Minister's Kisan Sanman Nidhi (PM-Kisan). At the push of a button, he deposited Rs. 18,000 crore transferred. Under this scheme, Rs. 6,000 is sent to the farmers' account in three installments every year. Two thousand rupees is sent to the farmers' account in two installments.
106 million farmers have benefited so far
On this occasion, Union Agriculture Minister Narendrasinh Tomar said that under this scheme so far a total of Rs. More than Rs 96,600 crore has been transferred to the accounts of 106 million farmers.
The Prime Minister also interacted with the beneficiaries of the scheme.
If you too have registered for this scheme and want to know whether you will get the next installment or not, you can get this information through the portal dedicated to the Prime Minister's Farmer Scheme. With this, in case of registration till date, you can also lodge a complaint here. If your name is listed in the updated list of beneficiaries of this scheme, you will get the benefit of this scheme.
Call the helpline number
If your name was in the previous list, but your name is not in the updated list, then you can register your complaint on PM Kisan's helpline number. The helpline number is 011-24300606, apart from this the government has also shared many more important numbers to make it easier for the farmer to get information about his money.
PM Kisan Toll Free Number – 18001155266
PM Kisan Helpline No.-155261
PM Kisan Landline Number – 011-23381092, 23382401
PM Kisan Helpline – 0120-6025109
E-mail id [email protected]
Check the list of beneficiaries of the scheme as follows-
First of all, you have to visit the official website of PM Kisan Yojana. Click on the link below for this.
https://pmkisan.gov.in
On the right side of the website, under 'Farmer's Corner' you will find the 'Beneficiary List' option.
After clicking on this link, a new page will open in front of you. On this page, select State, District, Sub-District, Block then Village.
Now after selecting all the options, click on 'Get Report'.
Here you will see a list of beneficiaries. You can find your name on these pages.