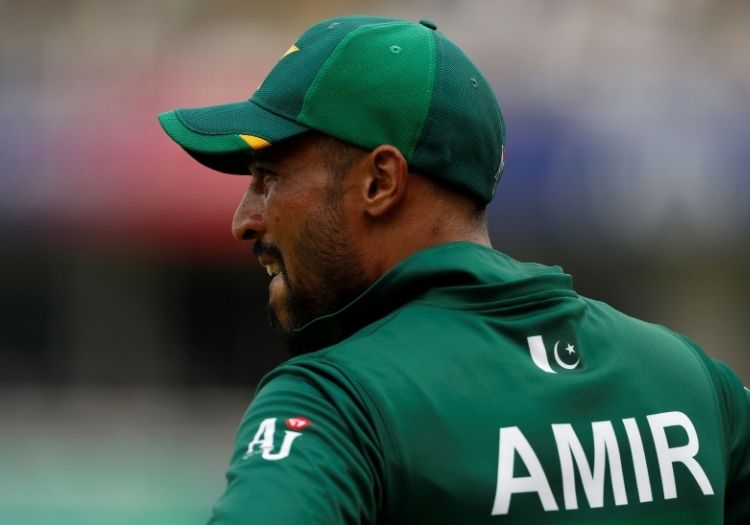 SAJ SADIQ: The history of Pakistani cricket is full of examples of talented players like Shoaib Akhtar and Umar Akmal who have fallen out of favor due to their differences with the leadership
Mohammad Amir's rise to fame as a precocious 17-year-old at World T20 2009 should have heralded the birth of an illustrious and long career.
While the scandalous events of the following summer put an end to such hopes, Amir was lucky enough to be able to resume his career and, against the background of some colleagues' doubts, duly made his international comeback in 2016 against New Zealand.
It was hoped that the player could continue where he left off in 2010, but fitness problems accompanied by doubts against the current management of the team led Amir to say enough and quit international cricket.
For former Pakistani international Mohammad Asif, who was banned at the same time as Amir, the situation of the left owner should have been better handled by both the player himself and the Pakistan Cricket Board (PCB).
"Both Pakistan Cricket Board and Mohammad Amir are to blame for how his international career turned out. The PCB showed a lot of confidence in him and gave him a lot of support after his ban, but recently they showed a lack of flexibility in what they want from him, "Asif says.
"This has led to the current situation that could and should have been avoided for the sake of Pakistani cricket. At the same time, I feel that Amir was a little rash in making the decision he has and should have thought it through a little better."
Blessed with pace and ability to swing the ball at will early in his career, and despite a five-year exclusion from cricket, Amir's skills continued to be evident after his return.
The Indian team that had the misfortune to meet him during the Pakistan Champions Trophy victory at the Oval in 2017 may well testify to this.
Mohammad Amir has retired from international cricket
"There is no doubt that Mohammad Amir at his best is still a match-winner," says Asif. "Certainly his form in Test cricket was not great after his return and perhaps too much was expected of him after being out of the game for five years.
"I know what it's like to go back to playing cricket after such a long interval, it makes your mind and body feel and you have doubts about yourself, but, even today, he is a bowler who can win a game on his own. white ball formats and his retirement will be a great loss for Pakistani cricket. "
While Amir's decision to quit Test cricket after the 2019 World Cup, and to make himself available only for white ball cricket, was not welcomed by his fans and PCB, Asif the decision was made for the right. reasons and its subsequent withdrawal from all formats will be a great loss for the country.
"Amir made the decision to withdraw from Test cricket due to fitness issues, which I believe were genuine. Instead of accepting that decision and using his skills in the shorter formats, the Pakistan Cricket Board ended up losing him in all formats due to their uncompromising attitude.
"If they brought him back to international cricket, it doesn't mean that he owes them favors or that he has to risk damaging his body and his career for them forever. He has to think about himself and put his career first, before the requests and wishes of the PCB and that's what he did and I don't blame him at all for doing it. "
Having himself experienced the effects of an often tenuous relationship between team management and players, Asif can well understand why Amir could blame head coach Misbah-ul-Haq and bowling manager Waqar Younis for his decision to leave the game. international cricket.
"This is not the first time that there has been a gap between the leadership of the Pakistani team and a player and I'm sure it won't be the last time either," he adds.
"The problem is that there seems to be a lack of flexibility in team management and a lot of stubbornness. Anyone who does not like the current management of the team, discard him, no matter how good they are or how vital they are to the team. The best coaches know how to get the best out of their players and they know when to play them and when to rest them.
Amir retired from Test cricket in 2019
"Unfortunately, this is a trait our current coaches like Waqar Younis haven't learned because they still have the 90's mentality of when they were playing. They don't know how to handle the players and panic after a couple of poor performances and are unable to show faith or patience in their top performers. "
The history of Pakistani cricket is full of examples of talented players like Shoaib Akhtar and Umar Akmal who have fallen out of favor due to their differences with management. For Asif, the team management's inability to understand and work with those slightly quirky or complicated characters is the kind of culture he'd like to see removed.
"The Pakistani cricket culture at the moment seems to be one where if a player like Amir doesn't perform, just throw him out, drop him, let him rot, instead of watching what's going wrong, because he's not exhibiting and supporting him. , rekindling that passion for cricket and those skills he once possessed.
"They need to further examine their fitness levels, if they are carrying injuries, have mental problems or there is something else wrong, instead of assuming that a player has simply lost the skills they once had and does not want to play. new for Pakistan. "
Amir's return to international cricket has been heralded by much fanfare with the pacer intent on winning critics and re-establishing himself as one of the best bowlers in the world. While performances in the shorter formats seemed to be a testament to his skills, he struggled in Test cricket and doubts about this version of Mohammad Amir began to creep in.
Over time and with the world's expectations, the luster faded on his second entry into world cricket, which for Asif was clearly to blame for how poorly the fast pitcher was handled by the Pakistan team management.
"There seems to be a problem with the current Pakistani team coaching setting where they are not able to get the best out of characters who are a bit different like Mohammad Amir. Cricketers are not robots, they are not all the same and to get the best out of them you have to manage them differently and not expect them to be all yes-men.
"There is an art of managing players and unfortunately the current team of coaches for Pakistan doesn't have the skills to get the best out of slightly complicated characters. Maybe they just want robots, or players who will just say Yes sir and it's that's why they keep picking those players like Wahab Riaz who have zero performance, but will happily agree with everything the team management says. "
Amir and Mohammad Asif were both banned from five years for their part in the 2010 spot-fixing scandal
While Amir's decision to quit international cricket seems final, many, including Asif, are hoping he reconsiders this emotional decision. The fact that the left arm was never entirely out of international cricket after its ban could, according to Asif, explain why he made the decision to retire. Amir could, according to Asif, regret his choice in the cold light of day.
"Despite the flaws in the current coaching group and team management, I still believe Mohammad Amir made the wrong decision by retiring from international cricket.
"I look at my own example, I would have given anything to play for Pakistan again after my ban, but it didn't happen and that hurts. Only those in that situation who are ignored by the selectors know how bad it hurts and how important it is to play for your country. I wanted to play for my country again, I was desperate to win my critics and get redemption, but I never got the chance.
"Maybe it was all too easy for Amir after his ban and that's why he gives up on everything now. All in all, I feel he will regret this decision in the future, as playing in the Twenty20 League may be a short-term gain, but ultimately international cricket is where a player's legacy is made.
Gift a membership to The Cricketer this Christmas and choose your free gift (a £ 20 John Lewis gift card or a copy of Bob Willis: A Cricketer & A Gentleman). Sign up here
Pakistan | International | Features | 1Banner |


Make sure all fields are completed before submitting your comment!