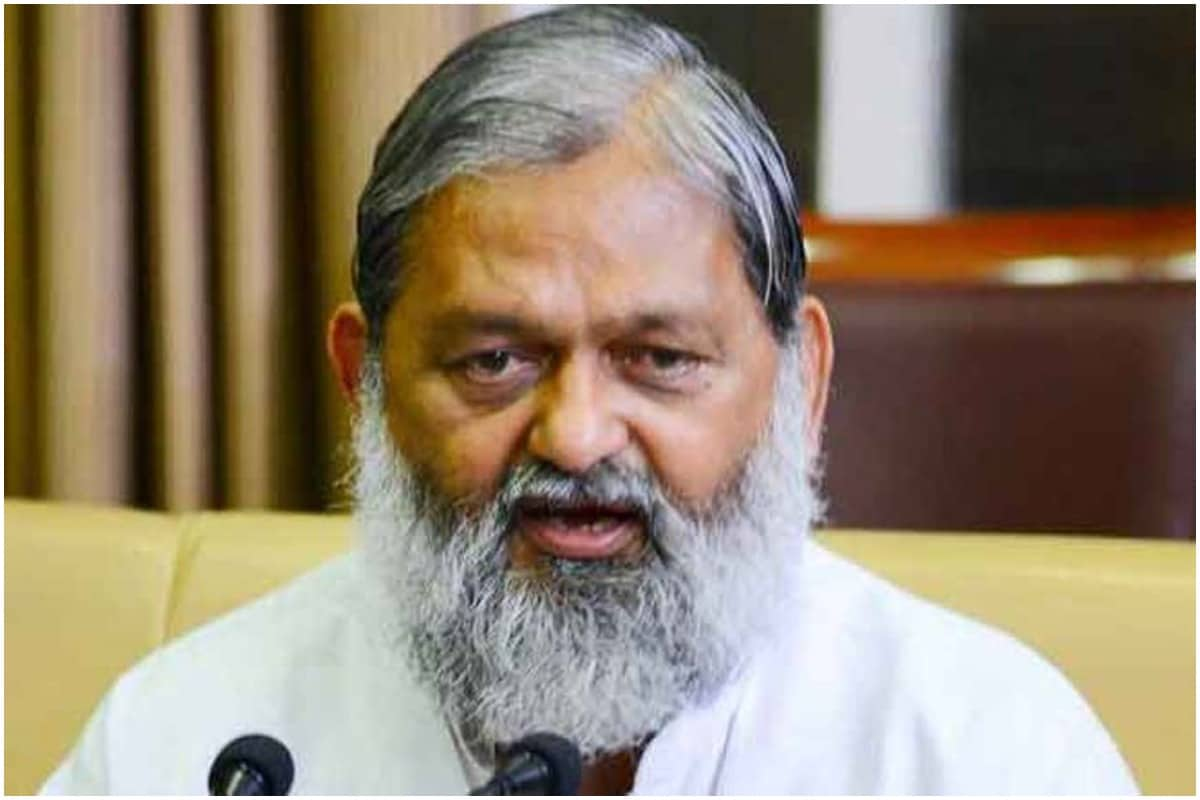 Anil VJ made the first dose of corona vaccine 'Kovacin'.
Haryana Home Minister Anil Vij (Haryana Home Minister Anil Vij) has been shifted from PGI Rohtak (Rohtak PGI) in Gurugram to Medanta Hospital (Medanta Hospital) due to ill health.
News18

Last updated:
December 15, 2020, 9:43 PM IST
Rohtak.
Haryana Home Minister Anil Vij's health has deteriorated after being infected with the corona virus. Due to this he has been shifted from PGI Rohtak to Medanta Hospital in Gurugram. Earlier, Anil Vij was referred to PGI Rohtak from Ambala Hospital. The Haryana Home Minister has an infection in his lungs. In this regard, the Vice Chancellor of the University of Health Sciences, Dr. He has been shifted from Rohtak PGI to Medanta to be more vigilant.
Anil VJ installed 'Kovacin'
Let me tell you that on November 20, Anil VJ gave the first vaccine of the third phase of Corona vaccine 'Kovasin'. He was vaccinated at the Civil Hospital in Ambala Kent. Minister Vij was vaccinated under the supervision of PGI Rohtak team. After this, he was kept under observation for half an hour. Earlier, the Rohtak PGI team took blood samples from Minister Anil Vij. After this, on December 5, he tweeted that Corona had become positive even after being vaccinated. Vij was given a dose of 'Covacin' developed by Bharat Biotech and ICMR. Not only that, after the commotion, Anil Vij himself said that the doctors had already told him that the Corona vaccine started working 14 days after taking the second dose, while the second dose of the vaccine was 28. Days are applied, then after 14 days the body develops antibodies and only then the corona gets protection. It is clear that this whole process takes 42 to 45 days.
His (Haryana Health Minister Anil Vij) oxygen level had come down this morning but he has been brought under control. To be more vigilant, he was taken from Rohtak PGI to Medanta: University of Health Sciences Chancellor Dr. O.P. Cholera # Haryana pic.twitter.com/UkYH6Jraup

– ANI_Hindi News (hindinnews) December 15, 2020
Digvijay Singh was the target
Congress leader and former Madhya Pradesh chief minister Digvijay Singh has questioned the test and its instability after Haryana Home Minister Anil Vij contracted the corona. He said Haryana Home Minister Anil Vijay had taken the vaccine to gain fame. He also questioned the testing process. He said this is a new disease. Before humans, trials are done on animals, here it is happening directly on humans. "We need to be careful, as there is no Indian laboratory for any vaccine," Digvijay Singh said.
Ames' opinion on Vij infection
In this regard, MC Mishra, former director, India Institute of Medical Sciences (AIMS), says that there could be two reasons behind Anil Vij's corona infection. The first is that during any vaccine trial, some people are given a placebo (a common substance in the illusion of drugs) and some are given a dose of the vaccine. It is not stated. It only contains data. MC Mishra says it may be that Anil Vij was given a placebo but not a real vaccine. In such a situation it has become positive. Another reason may be that Anil Vij has been given a dose of the actual drug, but it takes 28 days for any vaccine to become effective. Antibodies are produced in the body during 28 days. In such a situation, it has been 15 days since Anil Vij was vaccinated. During this time, antibodies have not yet been produced in his body and he is a victim of infection.