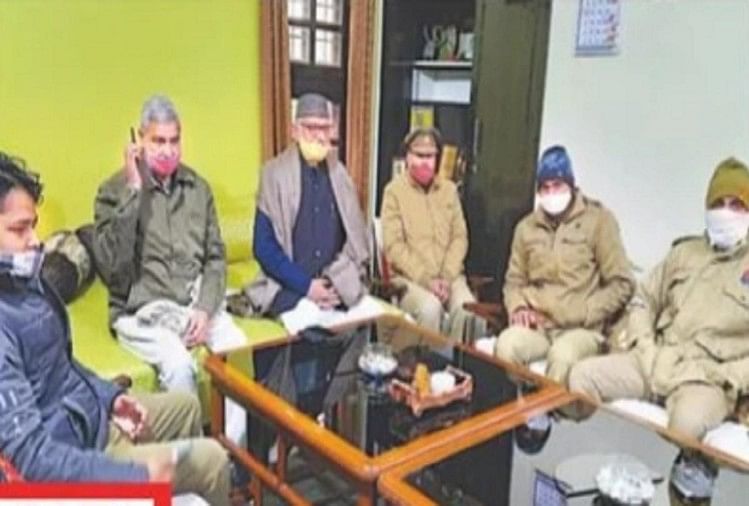 The ongoing agitation for repeal of new agricultural laws and demand for Minimum Support Price (MSP) etc. has stalled. The central government is not ready to repeal the law and farmers have also questioned the prestige. At the same time, efforts are being made at the secret level to break up the movement.
More than 65 Khap Chaudharis and Thamdars were detained in Uttar Pradesh and Haryana on Wednesday night following a call to reach the Ghazipur border on Thursday. The police-administration guarded his home outside for 20 hours.
Farmers from Punjab, Uttar Pradesh, Haryana and Uttarakhand are stranded at the capital's Singhu, Ghazipur, Tikri and Chila borders. Even before entering Delhi, the Delhi Police has put in place strict security measures to stop them. Nirav Khal Bharat Chaudhary Baba Rajveer Singh Mundet said that the Khap Chaudharis of Uttar Pradesh and Haryana had also raised the voice of farmers for the yatra to Delhi on Thursday, but before that they were banned.
Overnight, the local police-administration detained more than 65 Chaudhrys in Shamli, Muzaffarnagar, Meerut, Baghpat, Rohtak, Hisar, Kurukshetra, Kaithal, Panipat and other areas. Among them are more than a dozen prominent Thambar Chaudharis from Uttar Pradesh.
Many Choudhury reached out by dodging
Rajveer Singh said that even after the police-administration was cordoned off, some Khap Chaudhary and Thambar had reached the Ghazipur border. Police personnel were sitting outside their house on Wednesday night and they reached the back door of their houses among the farmers.
The mobile number is placed on surveillance
It is alleged that a heinous conspiracy is being hatched to end the peasant movement. Apart from the peasant leaders, now Khap Chaudhary has also come under the Centre's target. According to Rajveer Singh, so they are being monitored. Her and her family's mobile phones have been placed on surveillance. Every call is recorded.
Ticket appeals to stick with farmers
Arriving at the Ghazipur border, Balian Khap Chaudhary Naresh Tikait has appealed to Khap Chaudhary and others to stay with the farmers. Khaps have a history that they have always been with the farmers. The Khap of Uttar Pradesh and Haryana have given their full support. Now there is no question of retreating.