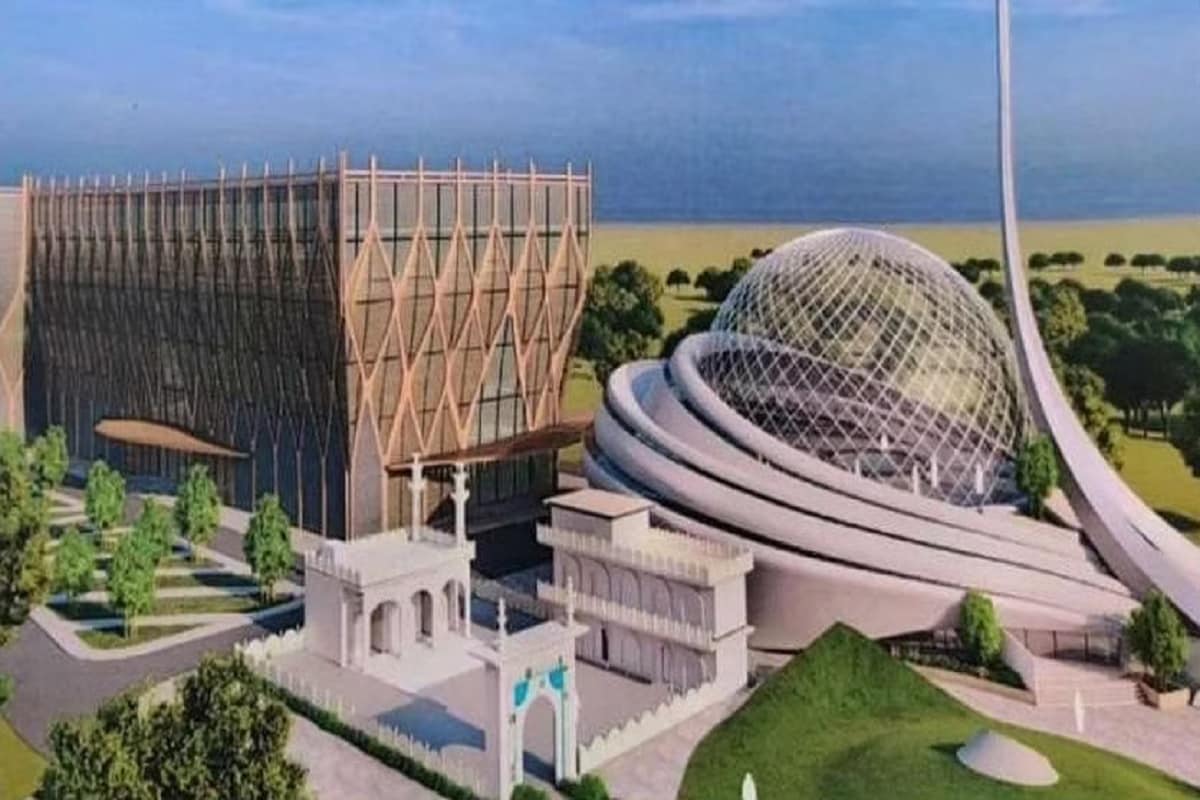 Mosque design to be built in Ayodhya (Photo courtesy Indo-Islamic Cultural Foundation)
The design of the Masjid (Masjid) to be built in Dhanipur village of Rainahi in Faizabad in place of Babri Masjid in Ayodhya has been rejected by Iqbal Ansari, a party in the Babri Masjid case. He said it did not show Hindustani style.
News18

Last updated:
December 25, 2020, 7:45 p.m. IST
Ayodhya.
The Supreme Court has directed the government to provide 5 acres of land for the construction of a mosque in Dhanipur village of Raunahi village in Faizabad instead of the Babri mosque in Ayodhya. After which a mosque was to be built here. But in this case a new turn has come.
The design for the construction of the mosque has been rejected by Babri Masjid Advocate Iqbal Ansari. He rejected the design and said that the design of the mosque has been given to foreign countries. We are the people of India and we will accept the mosque on the Indian style.
Happy Christmas Day 2020: Every evening in this Kashi church, Har Mahadev's voice is written on the walls with verses of Gita
Iqbal Ansari said that not only Ayodhya, but any Muslim mosque in the country would not accept this design because it is designed in a foreign style. He says the fight for the mosque was fought for 70 years, but no advice was taken from any party in Ayodhya today. The temple that is to be built on this land is according to foreign architecture, so we do not allow this design. We are Muslims of India and are loyal to India. We have always lived between Hindus and Muslims. The temple and the mosque have their own distinct identity. The map issued by the trust created for the mosque is foreign.
Govardhan's famous temple became a battlefield, kicked heavily by the priests
In such a situation, Muslims across India are protesting against the maps issued by the trust established for the construction of the mosque. The mosque is meant to offer prayers, but foreign maps do not appear in it. In such a situation, an Indian Muslim cannot waste his money on such a design.
Iqbal Ansari expressed displeasure
Iqbal Ansari, the party leader of Babri Masjid, has expressed displeasure with the mosque construction committee. He said no advice had been sought from any party in Ayodhya on the construction of the mosque. We need a mosque based on Indian style. Therefore, I oppose the construction of the existing mosque.