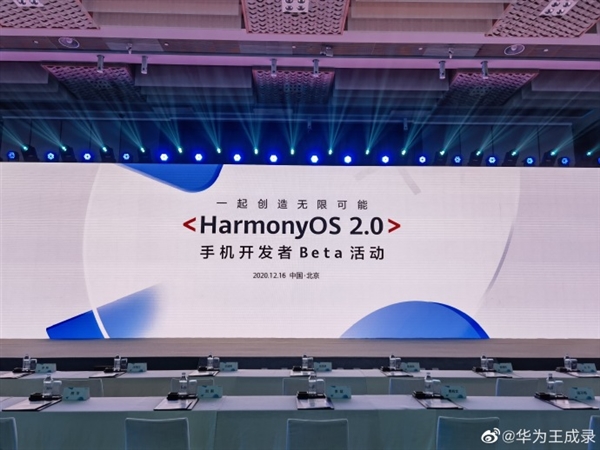 Huawei first unveiled HarmonyOS 2.0 (also known as Hongmeng OS 2.0) at the Huawei Developer Conference 2020. The tech giant today officially announced the release of the developer beta of the new ROM for app developers.
According to Wang Chenglu, president of Huawei's BG consumer software department, this year Midea, Joyoung, Boss Electronics and Puffin Technology all released products that run on Hongmeng OS. The tech giant's goal in 2021 is to cover more than 100 million devices from over 40 mainstream brands.
HarmonyOS was originally conceived for the Internet of Everything, with a better experience and more adaptations. For example, with HarmonyOS, JD's app can run on TVs, even refrigerators, and other devices with a screen. Therefore, hundreds of millions of devices, including cars with a smart screen, can run the JD app or any other app. This opens up several possibilities such as allowing access to payment portals like UnionPay using multiple devices like PC, TV, etc.
Currently, the beta public test recruiting activities have been implemented and developers and partners can apply to participate for free. However, it is only open to the Mate 40 and Huawei P40 series, as well as the MatePad Pro tablet.
Starting today (December 16), Huawei will offer developers two ways to get the beta version on select devices. Developers can use the remote simulator in Huawei DevEco Studio by downloading DevEco Studio 2.0 Beta3 version from HarmonyOS official website to get it. Alternatively, they can use the exclusive OTA to upgrade their device. First, you need to register, and once approved, you will receive the official Huawei public beta invitation email. According to the email content guidelines, you can get OTA push.
Below are the full mobile phones and tablet models supported by the HarmonyOS beta in China.
For mobile phones, there is the Huawei P40 full Netcom (dual 5G card), as well as the P40 Pro Full Netcom version. Others include Huawei Mate 30, Mate 30 (5G), Mate 30 Pro, Mate 30 Pro (5G), the model list is ANA-AN00, ELS-AN00, TAS-AL00, TAS- AN00, LIO-AL00, LIO – AN00.
Tablet: Huawei MatePad Pro Full Netcom version, Full Netcom (5G) version, WIFI version. The model list is MRX-AL19, MRX-W09, MRX-AN19.
The company adds that we can expect smartphones to work on HarmonyOS in 2021. You can get more details about the program on the Huawei developer's website.
NEXT: The Galaxy S21 will arrive in January with S Pen support, Samsung confirms
ALWAYS BE THE FIRST TO KNOW – FOLLOW US!