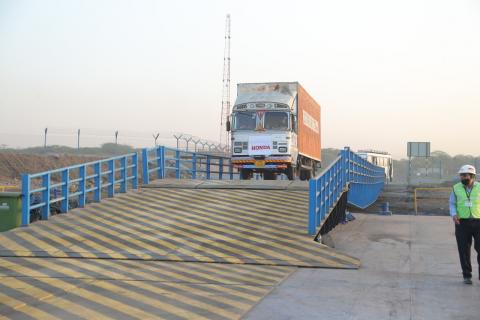 Honda 2Wheelers became the first Indian car company to adopt the recently inaugurated Ro-Pax ferry service linking Hazira (Surat) and Ghogha (Bhavnagar) in the Gulf of Khambhat (Gujarat), in partnership with Indigo Seaways.
Immediately after the inauguration of the new route on November 8, Honda sent its first two-wheeler shipment using the Hazira – Ghogha Ro-Pax ferry service from its Narsapura plant in Karnataka to Veraval (near Somnath) in the region Saurashtra of Gujarat.
Using this service, Honda claims the transit time of 2 days (7 days to 5 days) and the distance of 465 km for its two-wheeled vehicles reaching the Saurashtra region from the southern plant.
The Hazira – Ghogha Ro-Pax ferry service is faster and more cost efficient. It is also environmentally friendly. With this new route, the airline claims to reduce its carbon emissions by around 311kg / trip.
This ferry has reduced the road distance between Ghogha and Hazira to 1/4 and the current transit time from 10 to 12 hours to just 4 hours. It is claimed that it would reduce carbon dioxide emissions by 24 tons / day and 8,653 tons / year.
In 2018, Honda 2Wheelers India was the first two-wheeler company to adopt inland waterway transportation with the Ro-Pax Dahej – Ghogha ferry service in Gujarat. Between 2018 and 2020, Honda shipped 19,200 units via the Dahej – Ghogha ferry, saving 1 day of time per shipment, a reduction in transport costs of approximately 4% and a reduction in carbon emissions of 101,304. kg.