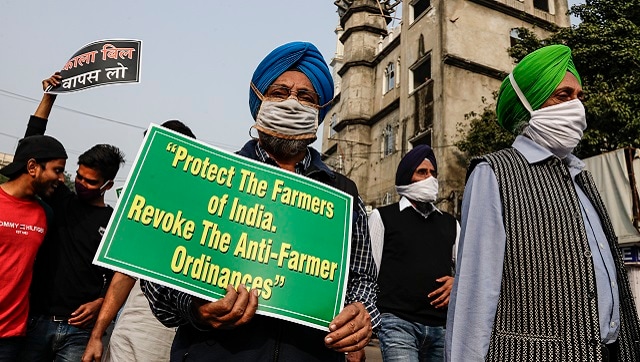 Farmers Protest LIVE Updates: the Supreme Court will hear an appeal today to demand the immediate removal of farmers who protested who blocked several border points in Delhi by sitting in agitation on the roads
Protesting peasant supporters marched in Calcutta on 12 December AP
Farmers protest LATEST Updates: The Supreme Court will hear an appeal today calling for the immediate removal of farmers who protested that they blocked several border points in Delhi by sitting in agitation on the roads.
On Wednesday, farmers will completely block another key border point – the Chilla border between Delhi and Noida in Uttar Pradesh.
At a press conference at the Singhu border on Tuesday, farmers' leaders said the fight for new agricultural laws has reached a stage where they are "determined to win, whatever happens."
On Wednesday, the peasants also threatened to completely block Delhi-Noida (December 16).
This came just hours after Prime Minister Narendra Modi said agricultural reforms are exactly what farmer bodies and opposition parties wanted. The prime minister once again reiterated his support for the three controversial agricultural laws and accused the opposition parties of misleading the protesting farmers.
Modi's comments came on Tuesday as protesting peasants camped near Delhi for the 20th consecutive day. They remain adamant on the request that the Center repeal the three laws. The government has repeatedly made it clear that it would not overrule agriculture laws, but is willing to make changes.
'He will have government laws repealed'
Strengthening their stance on the three new agricultural laws, farmer leaders on Tuesday said they "will" have the government repeal these laws, and said their struggle has reached a stage where they are "determined" to win it, no matter what. .
They said Wednesday they will completely block the Chilla border between Delhi and Noida to press for their demands.
During a press conference at the Singhu border, the leader of farmers Jagjeet Dallewal said: "The government is saying 'we will not repeal these laws', we are saying that we will do it for you.
"The fight has reached a stage where we are determined to win no matter what," he said.
AMU students extend support to protesting farmers
On Tuesday, students from Aligarh Muslim University (AMU) urged President Ram Nath Kovind to intervene on the issue of agricultural laws and called for legislation to be lifted.
The students also organized a protest and extended their full support to farmers who have been agitating against the laws at various border points in Delhi since the last week of November.
AMU students, including former student union leaders, also observed "Black Day" on campus on the same day last year, when about 50 students protesting against the Citizenship (Amendment) Act (CAA) they had been injured in a police action.
They also held a candlelit march and delivered a memorandum to senior university officials, which was addressed to the president, calling for the immediate repeal of agricultural laws and the AAC.
Find the latest and future tech gadgets online at Tech2 Gadgets. Receive tech news, gadget reviews and ratings. Popular gadgets including laptops, tablets and mobile specifications, features, prices, comparison.