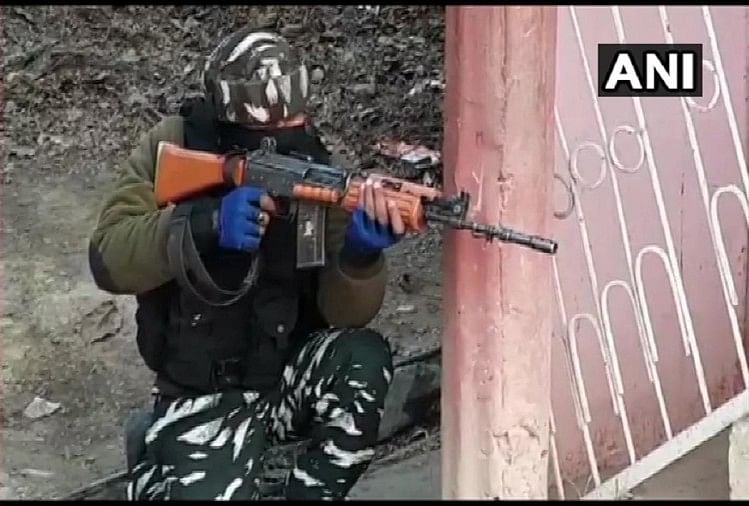 Encounters between security forces and militants continue
– Photo: ANI
An encounter between security forces and militants is going on in Vanigam Kiri area of ​​Baramulla district of Jammu and Kashmir. Security forces have succeeded in killing two terrorists. Jai-e-Mohammed is also a top commander among the militants killed.
Please say that security forces have been found hiding in the Curry area. Based on this information, a joint team of security forces started cordoning off the area. Meanwhile, the terrorists saw themselves surrounded and started firing. The encounter began with retaliation. Security forces managed to kill two militants in the encounter which lasted for several hours.
According to sources, the slain militants have been identified as Abrar alias Langu of Pakistan and Amir Siraj of Sopore, though this has not been officially confirmed yet. Aamir went missing on June 24 this year.
The main terrorist module was busted in Pulwama
Earlier on Wednesday, police arrested six militant associates involved in grenade-throwing incidents in south Kashmir's Pulwama district and busted a module belonging to the terrorist organization Jaish-e-Mohammed. Explosives were found in his possession.
According to police, all the accused were involved in grenade attacks and robberies in Tral and Sangaria areas. All the captured terrorist aides were in touch with their Pakistani master and had targeted security forces with grenade attacks in recent days. The arrested accused were involved in pasting by-election threat posters in Tral area.
They were identified as Ejaz Ahmed Bhat, Mohammad Amin Khan, S Handora, Sameer Ahmed Lone, Rafiq Ahmed Khan. All of them are residents of Tral while Suhail Ahmed Bhat is a resident of Avantipora.
Read ahead
The main terrorist module was busted in Pulwama