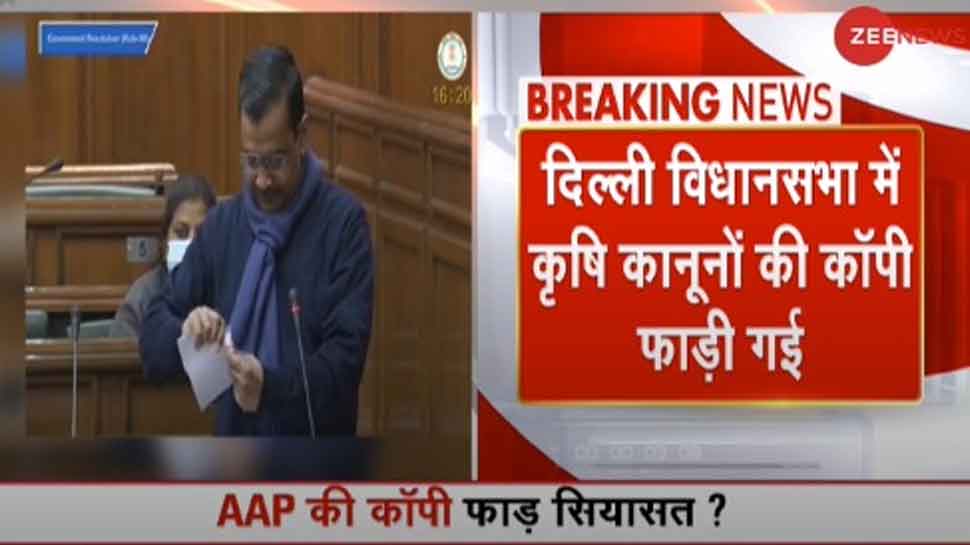 New Delhi: Farmers in Punjab are stuck at Delhi's Singhu border in protest of agricultural laws. Meanwhile, there was a huge uproar in the Delhi Assembly on Thursday over the farm law. Aam Aadmi Party (AAP) MLAs, including Chief Minister Arvind Kejriwal, tore up a copy of the farmers' law during a special session.
CM Arvind Kejriwal lashed out at the BJP, saying, "Agricultural laws were brought to fund the BJP's elections." He said the BJP is confused, not the farmer. More than 20 farmers have been martyred in this agitation. Every day a farmer is being martyred. I want to ask the central government, how much more martyrdom and how much do you know?
C.M. Arvind Kejriwal Tears were shed in the Delhi Legislative Assembly over the copy of the Centre's Farm Bill.

We refuse to accept this farmer bill which is against our farmers. #KeJeAAgainstFarmBills pic.twitter.com/rBrcc67sRz

– You (@ Aam Aadmi Party) December 17, 2020
He said that Aam Aadmi Party is firm with the demands of the farmers of the country. Meanwhile, slogans of Jai Jawan, Jai Kisan were also planted in the house.
READ ALSO: Organ Donation: Innocent 4-Year-Old Donates 7 People to New Life, Brain Dies
It may be mentioned here that a special session of the day has been called for the Delhi Legislative Assembly on Thursday in which the three agricultural laws brought by the Center are being opposed. Meanwhile, Aam Aadmi Party MLAs tore up a copy of the Agriculture Act in the House.
Earlier in the session, Minister Kailash Gehlot introduced a resolution calling for the repeal of three agricultural laws. After this, each speaker is given five minutes to speak.