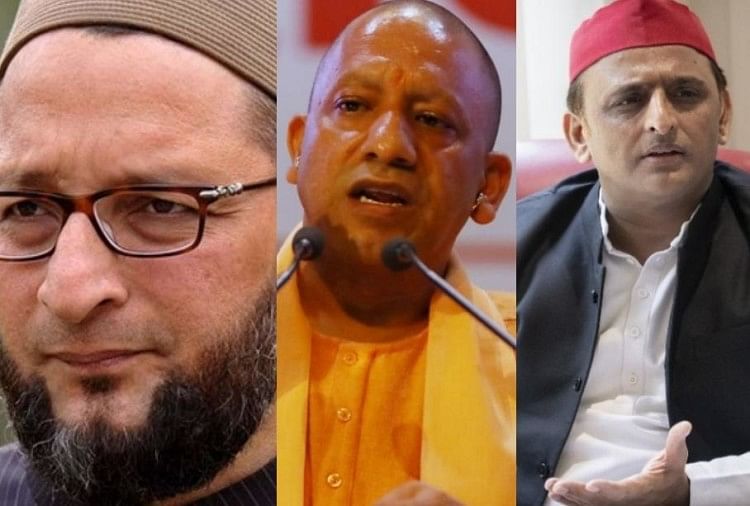 Asaduddin Owaisi, Chief Minister Yogi Adityanath and Akhilesh Yadav.
– Photo: Amarj Jala
With two and a half years left till the 2022 Assembly elections, political parties active in other states along with the state have become active for their future prospects in UP politics. Whether it is Delhi Chief Minister Arvind Kejriwal or All India Majlis-e-Itehadul Muslimeen (AIMIM) leader Asaduddin Owaisi.
How successful they will be is known from the results of the Assembly elections, but on Wednesday Owaisi and BJP's ally Suheldev Bharatiya Samaj Party (Subhasp) leader Omprakash Rajbhar completed the 2022 equations in future politics and their respective states. Points for exploring the possibilities of the foot.

However, for the first time, Owaisi is not showing interest in the UP elections. He has been exploring his prospects since the last several elections in UP. Assembly 2017 or Lok Sabha elections 2019. But AIMIM alone could not do any miracle.
The alliance with the BSP was discussed in the last assembly elections
There were discussions of alliance between him and the BSP in the last assembly elections, but they did not land. At the same time, in the 2019 Lok Sabha elections, there was talk of some of their parties meeting to get into the fray, but that has not changed in reality. As far as the recent attempt by Owaisi's party to explore the possibility of contesting elections in alliance with some parties in UP is concerned, one thing needs to be understood here.
In fact, the recent victory of five candidates in Bihar has revived Owaisi's desire to make his mark in North Indian politics. They think that if some parties in UP are fighting in Bihar like in Bihar, then maybe AIMIM will have a political presence in the assembly here as well.
UP is important for Owaisi
Former Chairperson of the Department of Political Science, Lucknow University, Prof. Rakesh Kumar Mishra says that the desire of every political party to register its presence in UP is also due to the fact that the state equations have a greater impact on national politics.
The success of Bihar has ignited a glimmer of political hope in Owaisi's heart and mind about UP. Owaisi feels that caste equations can also improve the maths of Muslim votes and put up some seats like Bihar if there is an alliance with the Rajbhar, BSP or other parties with other ethnic influences.
Owaisi's look at these equations
– Dr. Mishra seems right. A big reason for Owaisi's interest in UP is that 18% of the Muslim population is in good numbers. In some districts, Muslims make up about 100 percent of the population. In such a scenario, Owaisi feels that by splitting from the Rajbhar, BSP or SP with Muslim votes in some seats, Shivpalsinh Yadav's Prasad can form a front with some other smaller parties and get their votes, then succeed in registering a political presence in the state.
– Although Owaisi did not meet Shivpal on Wednesday, Shivpal himself had said in the past that talks were underway with Owaisi about the 2022 elections. Although this question has its own place, how much benefit Rajbhar and Shivpal, who formed the front with Overseas, will get from Muslim votes, but if the front is formed, Owaisi can definitely get some benefit. As far as the BJP is concerned, Owaisi's activities will not make much difference to his health as Owaisi will cut mainly Muslim votes, with the SP and to some extent the Congress suffering the most.
– The BJP may lose only a few Rajya Sabha votes, but the Opposition will compensate for the split of votes due to the presence of Owaisi. It is clear that Owesi's activism is just an attempt to find his land.
Read ahead
The alliance with the BSP was discussed in the last assembly elections